---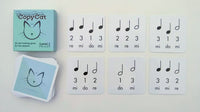 Sale
CopyCat is call-and-response game designed to teach ear training. One player plays a very simple melody and rhythm and the other tries to imitate it on their instrument. Starts very basic ("do, re, mi") and progresses with more advanced levels (available soon).
50 cards, standard coated casino-quality laminated 2.5" square print
Tuck box with instructions on back
Ideal for young students or advanced students who are new to ear training
How to play:
Player 1 performs the melody on their instrument
Player 2 aims to replicate it after given a reference pitch.