---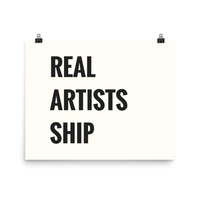 An iconic quote from Steve Jobs when he was working at Apple.
Everyone has ideas, ambitions and projects, but it takes real courage to actually bring them to life and deliver on them. Real artists create something and release it into the world.

Keep it in your practice area as a constant reminder to always be shipping.

Museum-quality print made on thick, durable, matte paper stock. 16x20in.